Don't worry, we're not moving far, just a hop, skip and jump over from where we are now (so still within Total Fitness Wilmslow) but with a whopping 4000+ square feet of glorious room both indoor and out at our fingertips. We felt the time was right, we needed to stretch out our arms, legs, and imaginations in a bigger place. A place we can welcome lots more children,  a place that can be full to the brim with new possibilities. A place where we can let our creativity and our little people run free.
We've oodles of amazing new facilities at our new POD! And we're sure your little (and big) ones will love them – think hot air balloon library, shipwreck sandpit, forest and mountain themed outdoor classrooms, soft play, outdoor science den, sensory rooms and so much more!
Sign up to our
newsletter
and follow us on
Instagram
or
Facebook
to watch the magic unfold and be first to hear when bookings go live.
In the meantime, we may be growing up (just a bit) but we're still the great big hug in a childcare format you know and love. Here's a few ways we're getting bigger from early next year (cue big smiles and proud faces!)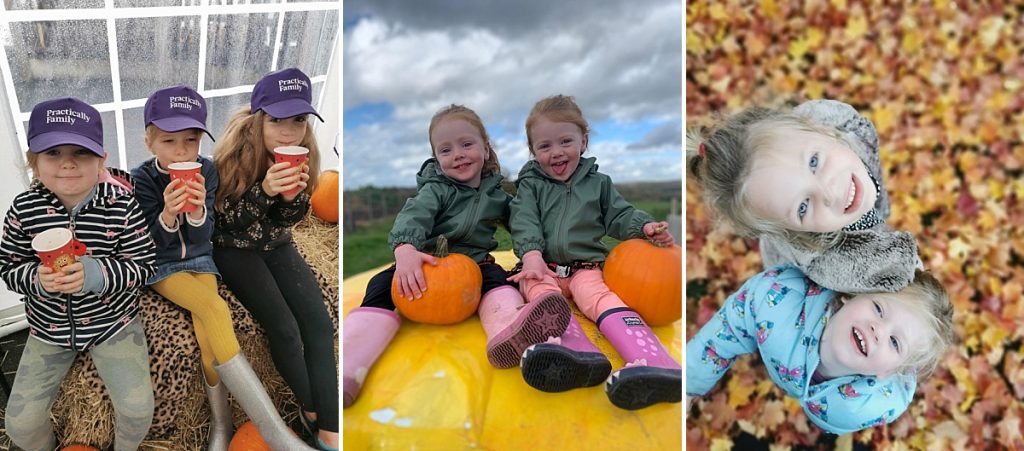 Big Ideas
We love big ideas, and we LOVE the kind of people that bring those ideas to life. That's why we hand pick the best team to create our unique and rather special Practically Family environment. As we expand, we've added a few more grown-ups to the bigger space. Don't worry, there will still be all the familiar faces you already know in the POD, plus some friendly new ones too. We'll be adding to our educational toolbox with their super skills as we continue to build on the EYFS framework in our unique and imaginative way.
Big Fun
The POD is a place for fun – you know the sort, the excited jumping up and down squeals of excitement fun! With this much fun on the agenda it's only right we have a space to do it justice.
We love kids. We love seeing their eyes light up with excitement and curiosity, we love seeing them grow in confidence, learn new things, and develop new skills. So you'll see resources to comfort as well as to challenge. Our fantastic new space has a compendium of new areas to explore – which means we've got even more ways to engage and enthral your little ones - whatever they're into. Giggles are (of course) included as standard.
Big Choice
Flexibility with a capital F. We've always been at the forefront smashing the stereotypes of what childcare can and should be and our new POD remains right at the heart of that. More space for more families to be part of our warm and welcoming Practically Family gang. We hate turning people away, so we're thrilled to be able to help more families successfully navigate that childcare maze, however unpredictable your schedule or whatever parenting predicament you find yourself in!
Big Value
Childcare can be expensive. That's why providing accessible, pocket-friendly care for everyone is part of our Practically Family promise. So, despite Kane putting us on baked beans for the foreseeable ( :-D), prices per session will only be increasing from £6.50 to £7.50 per session. And we remain super flexible in how you pay too. We welcome the use of Childcare Choices, Childcare Vouchers, or Tax Credits. Rather than worrying about hidden costs or which pot is funding it, we want you to focus on the quality of care we're providing and of course oohing and ahhhing at all the pictures, crafts, and stories your little one tells you of their time with us.
Big Freedom
We know that everyone's childcare needs are different – that's why restrictive, fixed, and inflexible contracts simply aren't our cup of tea.  And why our model isn't changing. Whatever you need, the POD is here to help with an extra sprinkle of glitter and no mutterings of contracts or commitments! We do flexible, fixed, or full-time hours, we do last minute or pre-planned care. The best bit is you can book right up to 6pm the night before you need cover and cancel 24 hours before.
Isn't freedom to choose a wonderful thing!
Big School
Bringing education to life in new and exciting ways remains central to our mission. We've always worked within the EYFS framework to explore imaginative and engaging activities, otherwise known as our
"shhh they don't know they're actually learning"
activities
.
But now we want to go one step further. With a focus on getting kids 'big school' ready, we're excitedly offering a new pre-school option for children aged 3-5years.
Our qualified primary school teachers and assistants work to our personal curriculum, to meet children's Early Learning Goals in an imaginative and engaging way. Running from 9.15am – 3.15pm, Monday-Friday, with the option of wraparound care in the early morning or after school hours, it promises to be a warm nurturing place for kids to grow and little minds to be stretched.
Your 30 hours of free childcare fully cover your preschool week, plus you'll have all the flexibility of our POD sessions and Holiday Clubs outside of term-time. Children will learn in a state-of-the-art classroom with an interactive white board, computer suite and awe-inspiring lessons that really stretch their skills and minds. We encourage children to explore the world as well as understand their impact on it, to create responsible little adventurers who are eco aware. This is a one-of-a-kind preschool for one-of-a-kind kids.
Hands up who's excited!!!
We couldn't be more thrilled about our new premises and the fun we've got planned from January onwards.  If you're already part of our family, you should have heard from us by now about transitioning – if you haven't then please do get in touch!
If you're a new family that's keen to be part of the POD (we know lots of families have struggled to get slots due to us being booked up) now is your chance to join us. We are super excited to finally be able to add more families in to our new bigger POD, so sign up to our newsletter on our homepage, or, if you have any questions, email
jade@practicallyfamily.co.uk
If you want to be the first to hear when bookings go live or get a sneaky peek at the POD's journey as we get ready for our January launch, then don't forget to follow us on social media too!
Join the family!