1. Painting with Water
Easy-peasy painting. Great for the little ones, fill up a bucket or pot with water and let them loose with a paintbrush. Let them paint the drive, patio, fence or wherever they choose. It's a lovely way to encourage mark making, practice letter or name writing and creating other shapes and art. Encourage their inner Jackson Pollock by flicking the brush to see what patterns it makes. This mess-free activity is loads of fun and the best bit is once the sun dries it up, the kids can start all over again!

2. Fight Summer Boredom with Reusable Water Bombs
You'll need 5 minutes to make these
reusable water bombs
or even better get the kids to make them! Simply cut up sponges into long strips and with a piece of string, tie 4-6 of the strips together to make your bomb! Dip in water and voila you're ready to go! Want to split into teams? Make colour-coordinated bombs for each team. Just dip in water to reload. Let them run around and burn off energy whilst you keep score in the shade!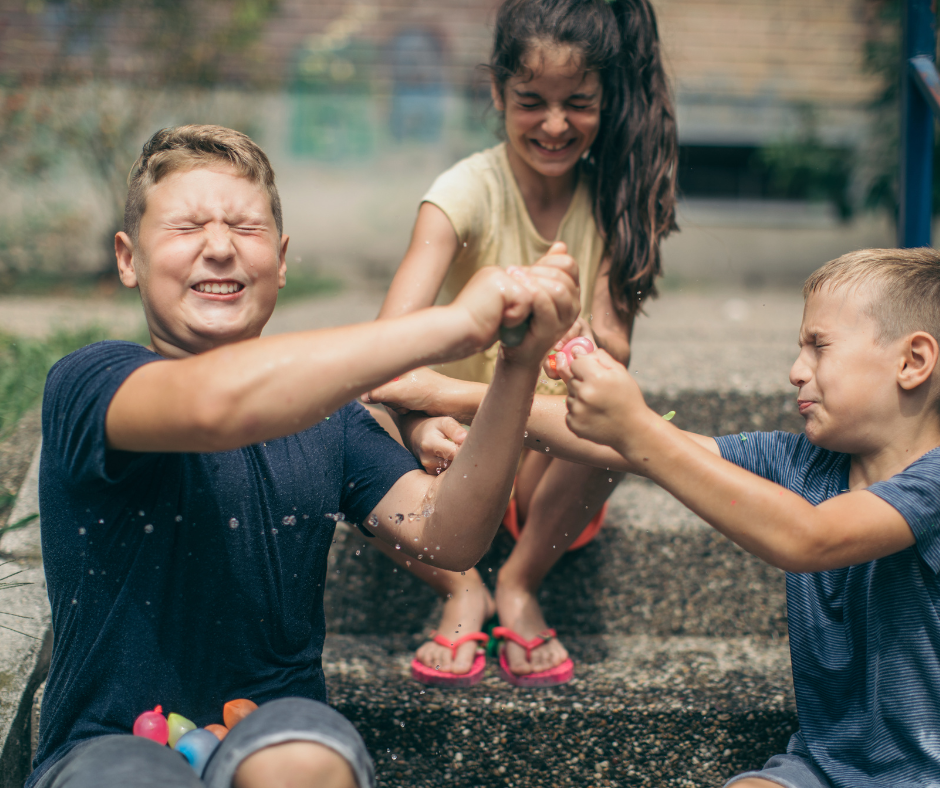 3. Junk Modelling Boat Fun
You can make a boat out of anything. Honestly!
Let the kids dig into the recycling for those margarine tubs, milk bottles and egg cartons. Then set them the challenge of designing and making a boat that…wait for it…floats!
This is a fantastic problem-solving activity that is not only fun but has a boatload (see what we did there) of ways to bring in some sneaky learning. Using open-ended questions like "how", "what" and "why" to get the kids to think about the materials they select and what that'll mean for the floatability of their vessel. It's a fab way to get them predicting outcomes and using different describing words - it also brings in some science-y-stuff too. Get the paint or felt tips out and let them decorate their boat, adding a paper sail using a straw and tape. Decide on the best waters for their maiden voyage (paddling pool, bath or even the pond), and watch their delight when they sail (or sink!).
4. Water Baseball – It's a Summer Hit!
Get ready for some smashing fun with this cheap and oh-so easy game. All you need is a bat, water balloons and something to use as bases. The pitcher throws a filled water balloon, and the batter tries to hit it! It's a soak-tastic summer hit. Whether it's a fully-fledged game with fielders also armed with water balloons, or batting practice with 3 strikes and you're out, let them decide the rules!
Entertaining a smaller crowd? Then try water balloon pinata. Tie water balloons to your washing line and let your kids loose with a stick to pop them! Great for hand eye coordination and it's trickier than it looks! After all this water balloon filled fun, don't forget to encourage the kids to help clean-up collecting all the broken balloon bits! Ice-cream or ice lollies are always the best encouragement!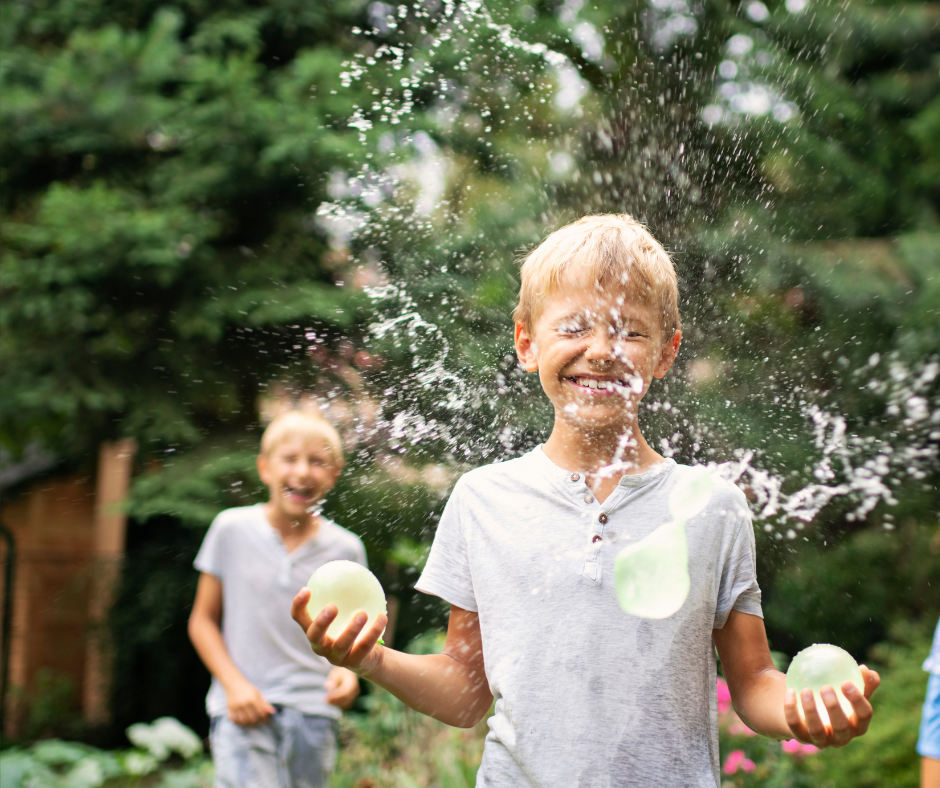 5. The Shark Bit My Cup Game
We love this water relay race with a bit of extra bite! The
shark bit my cup
is perfect for hot summer days! Grab two buckets of water and a cup and some excited children! Get the kids to transfer water using a relay cup that's been bitten by a shark (AKA you've poked some holes into it!). By the end of the game there will be as much water on them as in the buckets but that's all part of the fun!

There's lots of ways to turn the games you love into watery ones! If you've got some games with a bucketload of splash that your kids enjoy, then let us know – even better tag us in the photos or share them on our
Instagram
or
Facebook
! We're always on the lookout for new ideas and games to add to our list of soaking good summer fun!